How to attach the Fine Dust Filter Unit
(粉塵用フィルターセットの取り付け方)

How to take off the inner Filter (集塵用フィルターの取り外し作業)
(1) Invert the Silent Cleaner
(2) Loosen the bolt at the Dust Filter with the spanner/wrenches (10mm) and take off the filter
(3) Take off the Filter Cover and Dust Filter
(Replace the Dust Filter. Filter Cover is mentioned as "Filter Cover A" hereafter.)

1 . サイレントクリーナー本体を裏向けます。
2 . 集塵用フィルターを取り付けているボルトを10mm のスパナで取り外します。
3 . フィルターカバーと集塵用フィルターを取り外します。
(取り外した集塵用フィルターは使用しません。フィルターカバーは以下フィルターカバー(A)とします。)
How to reassemble the Fine Dust Filter (粉塵用フィルターの取り付け作業)
(1) Invert the Silent Cleaner
(2) Push the bolt (1) (shorter side) into the cleaner body
(3) Put the Fine Dust Filter (3) with the Punching Metal (4) inside on the Silencer's body
(4) Fit the Filter Cover A with the bolt (1), and fasten the Butterfly Nut (2)
(5) Fit the Punching Metal (Exterior (5) and the Cloth Cover (White) around the Fine Dust Filter (3)
(6) Fix the Filter Cover (6) with the bolt, and fasten the Butterfly Nut (2)
1. ①6mm ボルト(ネジの短い方)を、本体側にねじ込みます。
2. ③粉塵用フィルターの内側に、④パンチングメタル(小)が入ったものを本体に乗せます。
3. 先程取り外したフィルターカバー(A)を、中心の6mm ボルトに差し込み、②蝶ナット(大)で締め付けます。
4. ⑤パンチングメタル(大)に⑦粉塵用クロスカバー(白色)を取り付け、③粉塵用フィルターにはめます。
5. ⑥フィルターカバー(B)を中心の6mm ボルトに差し込み、②蝶ナット(大)で締め付けます。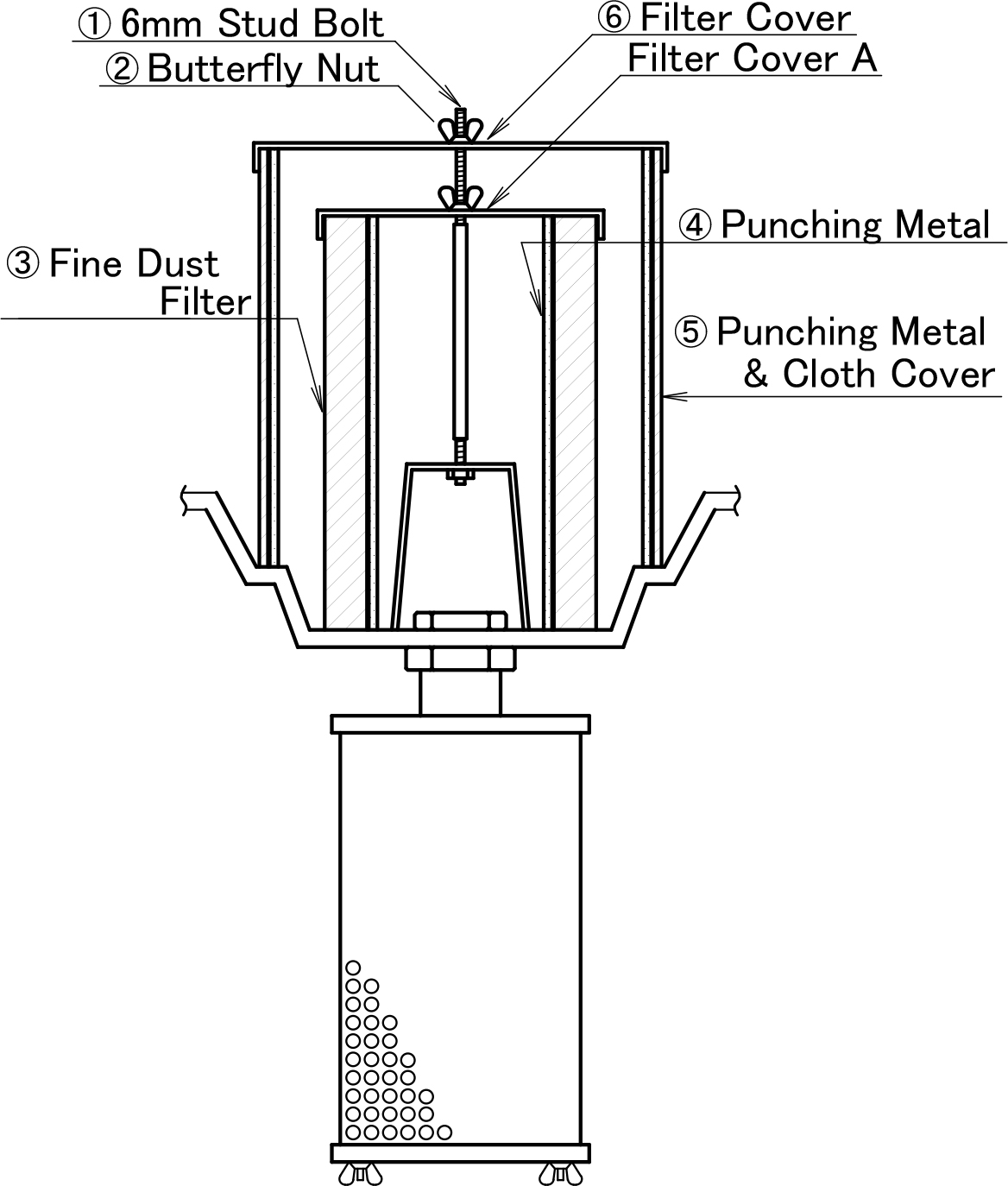 Attention: (注 意)
• When the vacuum level decreases, it indicates that the Cloth Cover (5) requires
cleaning.
Please clean the Cloth Cover occasionally
if the vacuum level is not regained.
• Please replace the Fine Dust Filter occasionally to prevent the excessive
vacuum level at the suction area and the dust flowing to the Silent Filter.
Replacement parts are available as below.
Fine Dust Filter (available from 6pcs in 1 set)
Cloth Cover for Dust (available from 2pcs in 1 set)
使用中に吸い込みが弱くなった時は、フィルターの目詰まりが
考えられます。
その場合、⑦粉塵用クロスカバーを掃除して下さい。
それでも尚、吸い込みが弱いと思われる場合は、③粉塵用フィ
ルターをお取り替え下さい。
* 目詰まりした粉塵用フィルターを使用していると、サクションエリア
内の真空度が上がり過ぎ、粉塵が粉塵用フィルターを通り抜けて
サイレントフィルターに付着し、目詰まりが生じますので早めに
お取り替え下さい。
交換部品は下記入り数にて販売しております。
SC用 粉塵用フィルター (6個入り)
SC用 粉塵用クロスカバー(2枚入り)