*MP-38は単体では吸引しませんのでサイレントクリーナーに接続してください。
* MP-38 is must connect to a "silent cleaner".
| | |
| --- | --- |
| Weight | 13.5kg |
| Height | 990mm |
| Width | 450mm |
| Plate thickness | 1.2mm |
| Hose | IDφ38mm×3000mm |
| Tank | 25L Transparent PVC |
| Stand | Aluminum stand with casters |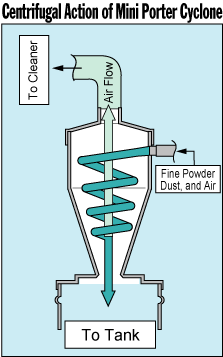 EXPLANATION (商品説明)
[English]
For anyone who has to handle Fine Dust or Fine Powders
In trouble collecting fine dust or fine powders? Keep replacing the filters? The power of MINI-PORTER-CYCLONE vacuums fine powder into the Cyclone by the centrifugal force generated by a downward spiral air current. This forces the vacuumed weight of materials to drop into the storage container at the bottom. Because of this new suction structure, the filters are no longer in need. Enabling complete particle removal: essentially 100% for flour.
No Filters are used to process fine dust or powder.
No Rotating parts-
Breakdowns caused by wear and tear are minimized.
(Some construction as Silent-Cleaner)

For custom-orders, Please contact us.
[Japanese]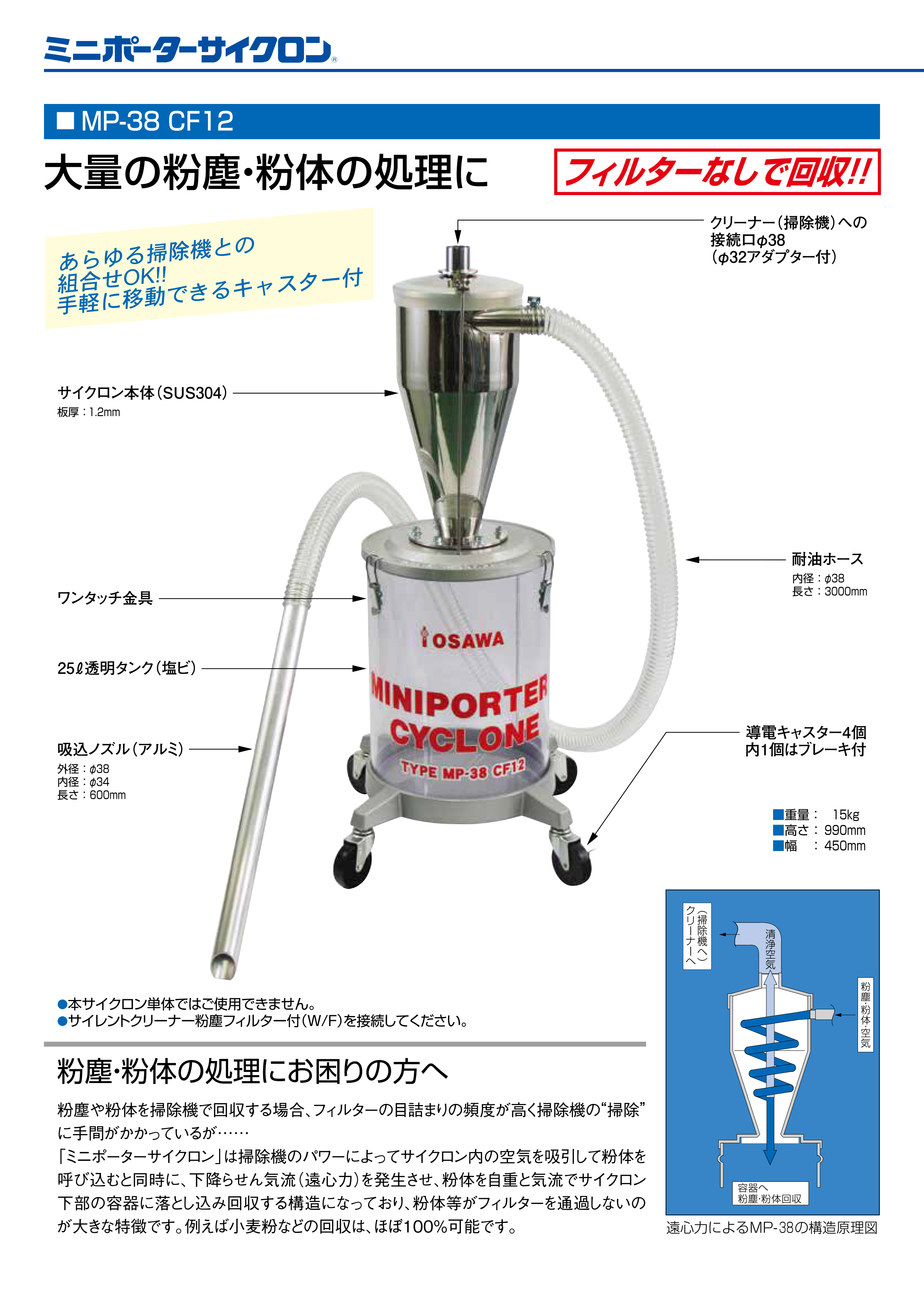 ミニポーターサイクロンMP-38 CF12は、粉体や粉塵を空気と分離させる事が出来ます。
小型ではありますが、本格的な粉体・粉塵処理機です。
例えば小麦粉などの回収は、ほぼ100%可能です。

重量13.5kg 高さ990mm 幅450mm
サイクロン本体板厚 1.2mm
吸込ノズル・・・外径38mm 長さ600mm
吸込用ホース・・・内径38mm 長さ3000mm
25リットル透明エンビタンク付
上部接続口φ32アダプター付
粉塵・粉体の処理にはフィルターを一切使用しておりません。
別途、吸引源が必要です。
推薦吸引源・・・SC30-32SW/F・SC60-38SW/Fなど
ホース口径φ32の吸引源へ接続できるアダプター付
ご希望に応じてタンク容量や材質の変更など、別注も承っております。