※使用するエアー消費量。
・SC20-32
・SC20-32W/F
・SC30-32SW/F
ともに約400L/min
* Air consumption used.
・ SC20-32
・ SC20-32W / F
・ SC30-32SW / F
Each model about 400 L / min
EXPLANATION (商品説明)
[English]
Built-in Silencer !! Removable !! Multiple Filters !!
Powered by compressed air, Silent-Cleaner can handle water, oil, sludge, gravel, grain, metal chips and many more materials. Bears continuous use and silent since silencer (filter) is equipped with this model.

Silent-Cleaner draws materials powerfully.
No rotating parts are involved; friction is almost absent and possibilities of breakdown leading to wear and tear are reduced to the barest minimum.
This device is built to withstand long operating period.

Weight: 10kg, Height: 830mm, Width: 450mm
Hose: IDφ32mm, Length: 2m
20L Iron Tank, Aluminum stand with Casters
[Japanese]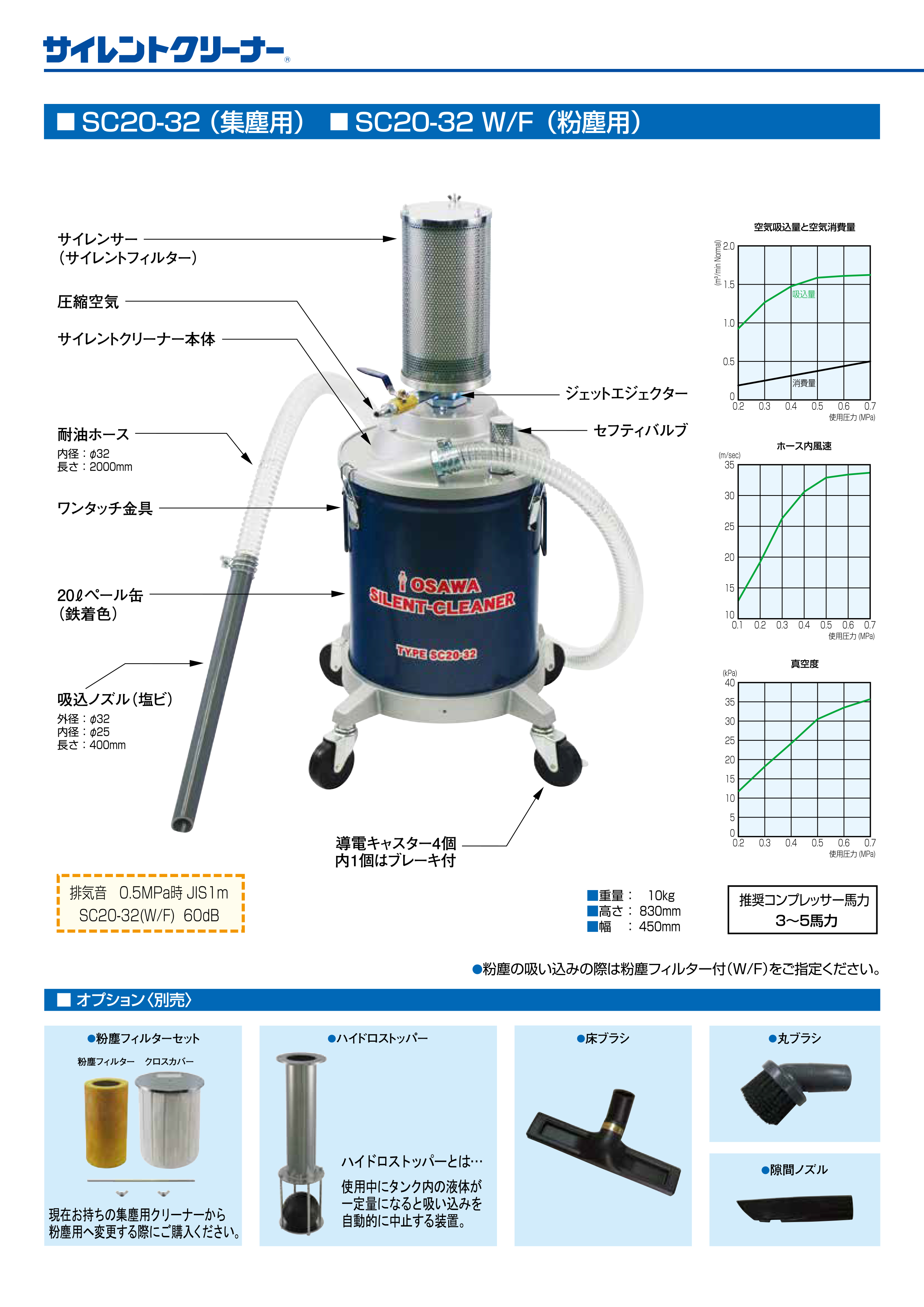 強い吸引力、消音型の万能クリーナー
サイレントクリーナー「SC20-32」
2段階構造・多重フィルター、長時間の連続使用OK
オオサワ&カンパニーの「SC20-32」は、駆動源の圧縮空気(コンプレッサーエアー)
で吸い込みができ、従来の工業用クリーナーでは不充分な水、油、へドロ、穀物、
小砂利、金属片等を強力に回収し、長時間の安定稼働を実現する。
圧縮空気利用の産業用クリーナー
本機は圧縮空気を動力源として吸引力を発生させる。通常、集塵機はモー
ターの騒音がうるさく、集塵機の近くでは会話ができないほどだが、オオサワ&
カンパニーの集塵機は回転部がないため静かで耐久性が高く、長時間の運転
も可能。吸い込まれたゴミは、集塵用フィルターで捕集される(粉塵・粉体等
の吸い込みには、粉塵用のフィルターを組み込んだ【SC20-32W/F】を推奨)。仕
様は以下のとおり。重量10kg、高さ830mm・幅450mm、吸込ノズルは外径
32mm・長さ400mm、吸込用ホースは内径32mm、長さ2000mm。タンクは20
リットル。キャスター付きなので移動も簡単に行える。集塵のほか、油、ヘドロ
(水分量が多い状態)なども回収できる。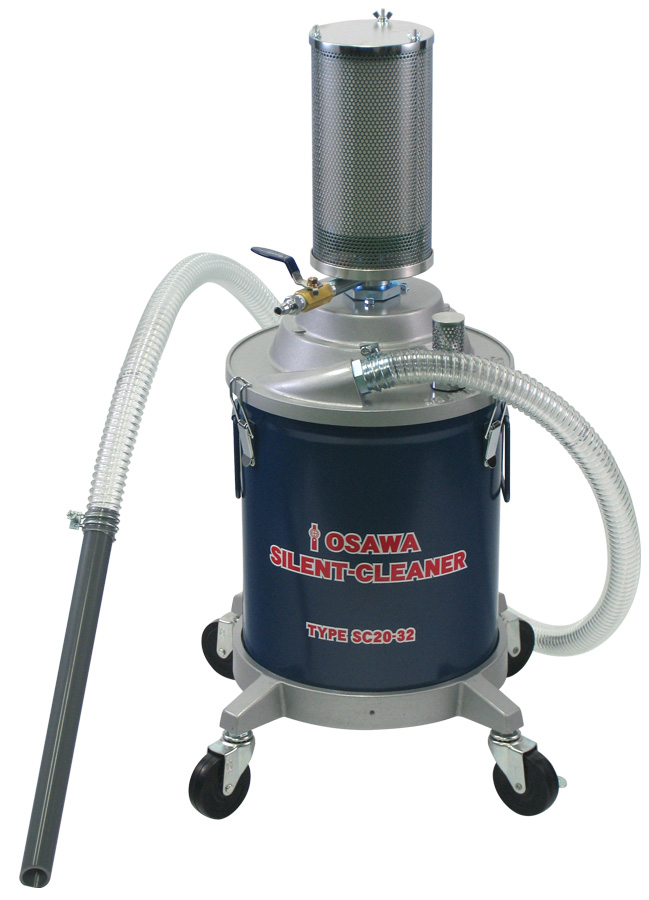 優れた「4つの特徴」
①ジェットエジェクター……吸引力を生み出す装置でサイレントクリーナーの
心臓部。回転部分がないため故障の心配はない。抜群の性能を誇り、さまざまな
分野で活躍するワンダーガンシステムを採用。②サイレンサー……排気音は58
dB~60dB(0.5MPa・5kg/cm²時JIS1m)と非常に静か。クリーナー使用中の大声は
必要とせず、使用中でも静かに対話できる。③セフティバルブ……使用中にエアー
圧力の急上昇やホース口の閉塞などで、ドラム缶内部の真空度が異常に上昇して
も、セフティバルブが働き、各装置やドラム缶が破損せず、安全に作業できる。④イ
ンナーフィルター……本体内部にフィルター(グラスウール製)があり、集塵した
ものを外部に出さないようになっている。
サイレントクリーナーSC20-32は、駆動源の圧縮空気(コンプレッサーエアー)で、吸い込みが出来ます。
従来の工業用クリーナーでは不充分な水、油、へドロ、穀物、小砂利、金属片等を強力に回収。あらゆる職場に大活躍。
2段階構造・多重フィルター!長時間の連続使用OK!
強い吸引力、消音型の万能クリーナー。

重量10kg 高さ830mm 幅450mm
吸込ノズル・・・外径32mm 長さ400mm
吸込用ホース・・・内径32mm 長さ2000mm
20リットルタンク、キャスター付き。
PERFORMANCE CHARTS (性能表)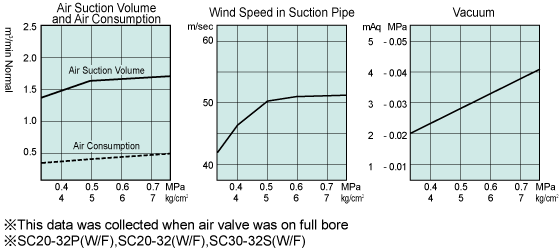 FEATURES (特長)
JET EJECTOR (ジェットエジェクター)
Jet ejector is the heart of the SILENT-CLEANER, supplies a strong suction. Since no rotating part is contained, no worry for a breakdown.
Adopted outstanding performance of WONDER-GUN system that is well received in all field.
吸引力を生み出す装置でサイレントクリーナーの心臓部です。
回転部分がない為故障の心配はありません。
抜群の性能を誇り、さまざまな分野で活躍するワンダーガンシステムを採用。


SILENCER (サイレンサー)
The silencer keeps exhaust sound low … 58dB — 60dB (0.5MPa (5kg/cm²) at JIS 1m).
No need to shout over the cleaner anymore. You can clean a place pleasantly with SILENT-CLEANER.
排気音は58dB~60dB(0.5MPa・5kg/cm2時JIS1m)と非常に静かです。
クリーナー使用中の大声はもう必要としません。使用中でも静かに対話出来ます。


SAFETY VALVE (セフティバルブ)
Safety valve prevents the sudden increase of air pressure or vacuum inside the drum to keep the optimum and safety operation.
使用中にエアー圧力の急上昇やホース口の閉塞などで、ドラム缶内部の真空度が異常に上昇しても、セフティバルブが働き、各装置やドラム缶が破損せず、安全に作業出来ます。


INNER FILTER (インナーフィルター)
Glass wool made filter in the unit keeps dust from not getting blown out. As an option, fine dust filter is also available when used for fine dust cleaning.
Please specify as FINE DUST FILTER when you order this unit.
本体内部にフィルター(グラスウール製)があり、集塵したものを外部に出さないようになっています。
粉塵の吸い込みには粉塵用をお使いください。