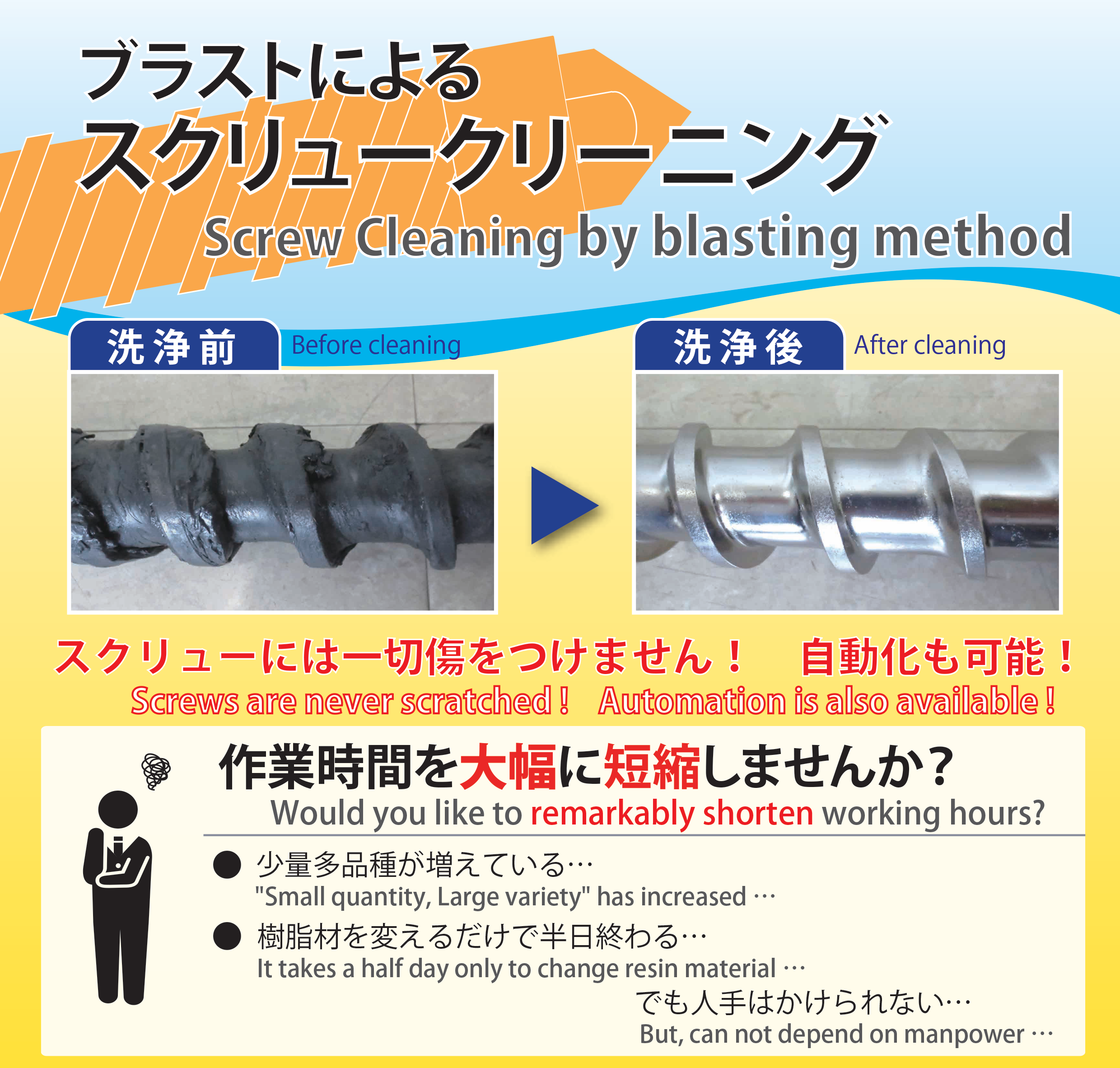 ブラストによるスクリュークリーニング「6 つの特徴」!
(6 features " of Blast Screw Cleaning!)
1. 速い (Speedy)
作業時間が短いためスクリューの予備品が必要無く、研磨材も循環使用でき、
大きなコストダウンが可能です。
Blast screw cleaning can greatly reduce cleaning time, compared with the existing baking method, and it makes prompt "return to production" possible.
2. ダメージ無し (No Damage)
ソフト研磨材使用のため、スクリューを傷付けることが無く、付着物のみ除去できます。
もちろんワイヤブラシの様な擦り傷も付けません。
Due to use of soft type abrasives, only extraneous matter can be removed from screws without scratching them.
Of course, there is no scrapes like as wire brush.
3. 焼く必要なし (No need to bake)
常温加工で付着物を除去できますので、スクリューに熱を加える必要が無く、スクリュー
母材の加熱による母材劣化がございません。
Extraneous matter can be removed by ordinary temperature processing. So there is no need to heat the screw, and as a result of it,
base material is not deteriorated due to heating.
4. 使いやすい (Easy to use)
段取り不要で、複雑形状でも、作業者を選ばず、誰にでも簡単にクリーニング可能です。
ネジ部や穴部まで綺麗にできます。
Anyone, without selecting operators, can easily do cleaning, without preparation, and in spite of complicated form.
Even thread and hole part can be cleaned.
5. 経済的 (Economical)
ブラストでのスクリュークリーニングは、従来の焼く方法と比較しクリーニング時間を
大幅に短縮できるため、速い生産復帰が可能です。
Substantial cost reduction is possible, because there is no need to have spare screw due to short operation period, and recycling usage of abrasives.
6. 環境に優しい (Environment-friendly)
有機溶剤不要で、焼く必要も無いのでCO2 を発生しません。
人と環境にやさしい加工です。
Organic solvent is not required and CO2 is not generated because of no baking. This is human and environmentally friendly processing.